Description
Book of Demons is a Hack & Slash Deck-building hybrid in which YOU decide the length of quests. Wield magic cards instead of weapons and slay the armies of darkness in the dungeons below the Old Cathedral. Save the terror-stricken Paperverse from the clutches of the Archdemon himself! Book of Demons is the first instalment of Return 2 Games - a series of original mid-core titles, inspired by the early golden days of PC gaming.
History
July 28th 2016 - Start of Early Access
Book of Demons launches into Early Access on Steam. The plan for the EA is to add 2 character class, polish the game and exit early access in 6 months.
October 27th 2016 - Early Access Mayhem & Free Demo
The first 3 months after the launch were very hectic. Countless fixes, usability improvements, balance changes and minor features were introduced. At the end of October a free demo was released.
December 5th 2016 - Mage class
First major Book of Demons update introduced the Mage class with all new cards and mechanics.
March 15th 2017 - Card system revamp
Driven by the community feedback, we made a hard choice to fundamentally revamp the card system mechanics that drive the game. Magical and legendary cards were introduced along with a new upgrade system based on magical runes.
December 11th 2017 - Rogue class
The long awaited Rogue joins Warrior and Mage and completes the list of playable classes.
April 23rd 2018 - Community translations
Thanks to awesome community translators, Book of Demons is now available in Chinese, Russian, French, Brasilian-Portugese and Italian. More languages will soon follow.
October 11th 2018 - Final features & Mac version
During the rest of 2018 Book of Demons becomes polished and feature complete. Features such as Quest Mastering, a new Archdemon Quest, Roguelike mode, new sounds and voces are added. Mac version is also released.
November 7th 2018 - Release date annouced
Book of Demons is scheduled to exit Early Access on 13th of December. The final features a live in the test branch and for the press.
December 13th 2018 - Book of Demons Released
Book of Demons leaves Early Access and is available on PC and Mac.
Features
Cards and Deckbuilding - it's not a card game, but items, spells, and skills are all expressed as cards. The strategy lies in adapting your hand to each situation. Cards can be upgraded with runes and you can find many variants with diverse bonuses. Legendaries are the most epic but hard to acquire.
Tailored sessions with Flexiscope - Book of Demons respects your time. It features the Flexiscope engine which allows you to divide the game into sessions of any size. It even learns your pace of gaming and predicts the time to complete the next session.
Unique Mechanics - Simplified movement and fight mechanics is where Book of Demons differs the most from other hack & slash games. There is often not enough time to click-remove all of the obstacles such as monster shields, enemy spells, poison, or knocked cards, so timing, card selection and order of execution are critical.
Hack & Slash in the world of Paperverse - Book of Demons takes place in Paperverse, a world that exists entirely inside a pop-up book. it's a tale of good and evil about saving the world from the ultimate devilry. Sounds familiar? Inspired by the dark and gloomy atmosphere of the first Diablo game, Book of Demons is part tribute part parody of hack and slash classics.
Comfort of Gameplay - Many Book of Demons features were designed with gameplay comfort in mind. Points of interest are marked at the top of the screen and get revealed once you get closer. Your character leaves footprints, which can be used to track your way back or notice paths already visited without opening the map.
Challenging Endgame - On average it takes about 10 hours to complete the campaign with a single class, but maxing out a character and mastering all of the higher Freeplay difficulty levels and Quests takes much longer. The Roguelike mode offers another level of challenge with permadeath, restricted healing and even more obstacles to overcome.
Procedurally Generated Dungeons
Roguelike Mode for fans of extreme challenge
70+ different types of monsters, with different traits and custom mechanics
Xbox and Steam controller support
3 underground realms and epic Quest Boss battles
Monthly and all-time Leaderboards, 200+ Achievements
Logo & Icon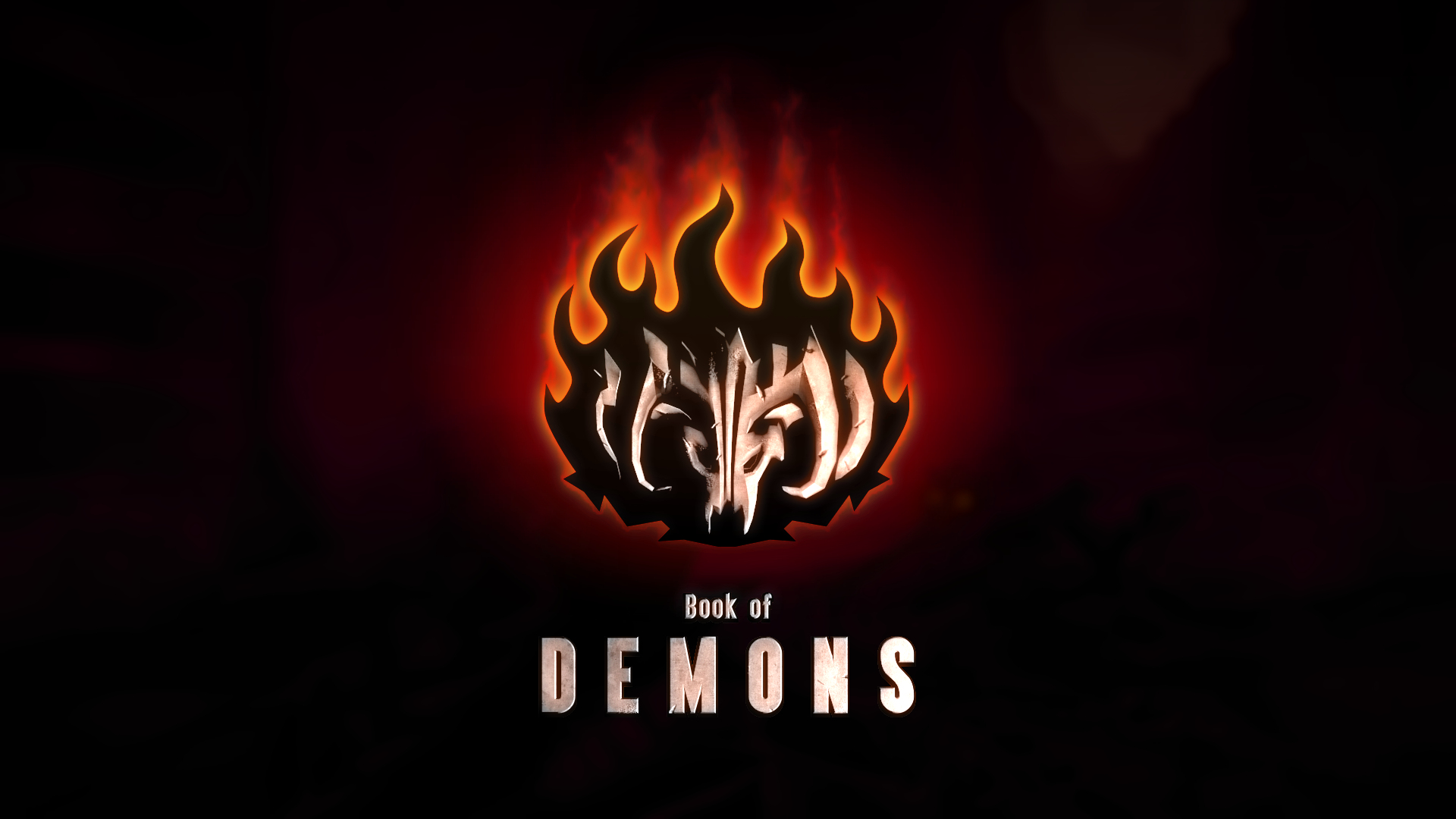 Awards & Recognition
"Indie of the Year Awards 2017" Top 10 Winner on Indie DB
"Official Selection" Intel Buzz Workshop 2017
"Indie Award Finalist" Momocon 2017
"Best Game Art" Casual Connect - Tel Aviv 2016
"Official Selection" Indie Games Polska - Pax West 2016 2016
"Best Indie Game - 3rd Award" Digital Dragons 2016
"Indie Basement Finalist" Pixel Heaven 2016
"Best Game - Jury's Choice" Freegalaktus 2016
Selected Articles
Book of Demons is bound to entice newcomers to the genre as well as a long time action RPG fans who have been longing for a different kind of dungeon crawler.

Joey Yee, Gamespot

The concept behind the Return 2 Games seven-part retrological makes me want to love it even more.

Josh Vanderwall, The Escapist

I cant wait to see the final product, play the other classes, and see just how well the core game loop of tackling dungeons with my own deck of cards holds up. I went into Book of Demons with zero expectations except knowing the looks from trailers. I cannot overstate how pleasantly surprised I was to find a full ARPG packed in this neat little $15 package.

William Murphy, MMORPG.com
Additional Links
[Rock, Paper Shotgun] Hack and Paper Cut: Book of Demons Is A Diablo Tribute

[The Escapist] Return 2 Games - Book of Demons - Retrological

[Xbox Wire] Book of Demons Hacks and Slashes onto Xbox One as a console exclusive

[GameSpot] Exclusive Preview: Book of Demons

[MMORPG] Book of Demons: Return to Classic Games with ThingTrunk's Latest (game)

[Unwinnable] Book Of Demons Is A Delightful Jaunt Across Hell

[80.lvl] Book of Demons - Action RPG from Thing Trunk Studio

[80.lvl] Book of Demons: The Search of the Art Style

[Thing Trunk] Revealing your game can be a nightmare - an emotional postmortem of Book of Demons announcement
About Thing Trunk
Boilerplate

Thing Trunk is an small game development studio and a creative team behind Book of Demons, the upcoming deck-building hack and slash, where it's the player who decides the length of levels. Thing Trunk is also the team behind Return 2 Games - a series of original mid-core games inspired by the golden days of PC gaming.

More information

More information on Thing Trunk, our logo & relevant media are available here.
Book of Demons Credits
Filip Starzyński

Co-Founder / Producer / Future Sax Virtuoso

Konstanty Kalicki

Co-Founder / Senior Programmer / Creative Person

Maciej Biedrzycki

Co-Founder / Chief Game Architect / Strategy Overseer

Krzysztof Rutkowski

Programmer and Linux enthusiast

Adam Buczek

Web Developer and the artistic soul of the team

Ignacy Ruksza

Additional programming and console port fighter

Małgorzata Jesionowska

Level content creator. Feeds on functional bugs
Contact
Inquiries

Twitter

Facebook